Latin dance shoes with crystals, for wedding, satin and natural leather wedding, bronze color, heel 7,5 cm flare, Darling Crystal.
Dance shoes made of strong satin and natural leather. Ready to ship up to 17 days.
''Darling Crystal'' satin dance shoes.
Latin dance shoes are made of a soft satin upper. The non-slip suede sole is light and at the same time durable, very slip resistant, which is why it is perfect for the dance floor, for training and tournaments. 'Darling Crystal' shoes can also be suitable for weddings and your wedding.
Description of dance shoes and their advantages:
Heel height: 7,5cm flare
Shoes decorated with crystals
The shoe model is available in heel heights: 9 cm flare, 8,5 cm flare, 7,5 cm flare, 6 cm flare, 5 cm flare.
Upper material: Strong satin.
The insole is made of breathable non-woven fabric that absorbs foot sweat. The insole is soft, comfortable and moisture wicking to keep your feet and shoes dry.
Sole: flexible brushed leather sole.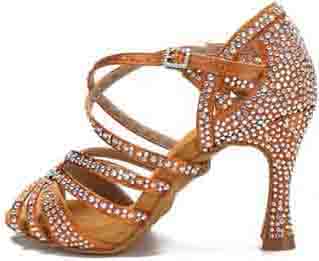 Breathable
Soft
Strong
Ergonomics
They match the dance shoes:
''Darling Crystal'' dance shoes with a flexible sole.
The sole and insole in dance shoes is very important. The specially designed sole is made of brushed leather, which is easy to bend. With this sole, you can bend and rotate your foot in different directions.
Latin dance: samba, cha cha, rumba, paso doble, jive
| Size | EU | UK | US | CN | CM |
| --- | --- | --- | --- | --- | --- |
| EU 34 / US 4 | 34 | 1.5 | 4 | 34 | 22 |
| EU 35 / US 4.5 | 35 | 2 | 4.5 | 35 | 22.5 |
| EU 35.5 / US 5 | 35.5 | 2.5 | 5 | 35.5 | 22.8 |
| EU 36 / US 5.5 | 36 | 3 | 5.5 | 36 | 23 |
| EU 36.5 / US 6 | 36.5 | 3.5 | 6 | 36.5 | 23.3 |
| EU 37 / US 6.5 | 37 | 4 | 6.5 | 37 | 23.5 |
| EU 38 / US 7 | 38 | 4.5 | 7 | 38 | 24 |
| EU 38.5 / US 7.5 | 38.5 | 5 | 7.5 | 38.5 | 24.3 |
| EU 39 / US 8 | 39 | 5.5 | 8 | 39 | 24.5 |
| EU 40 / US 8.5 | 40 | 6 | 8.5 | 40 | 25 |
| EU 40.5 / US 9 | 40.5 | 6.5 | 9 | 40.5 | 25.3 |
| EU 41 / US 9.5 | 41 | 7 | 9.5 | 41 | 25.5 |
| EU 42 / US 10 | 42 | 7.5 | 10 | 42 | 26 |
| EU 43 / US 10.5 | 43 | 8 | 10.5 | 43 | 26.5 |
| EU 44 / US 11 | 44 | 8.5 | 11 | 44 | 27 |