Doris Black latin dance pants.
Editors' Notes
'Doris' trousers is made from the label's 'AdvanSA' fabric - not only is it quick-drying, but it's also blended with Coolmax® technology, which prevents them from sagging after multiple washes.
Size & Fit:
Leg length: outside Leg: 92 cm, inside Leg: 71 cm.
Elasticated waistband for a flexible fit.
Fits true to size, take your normal size.
Model is 170 cm tall, 83 bust / 62 waist / 85 hips (cm) and is wearing a size Small (S-36).
Details & Care:
Color: black.
Mid-weight, breathable, stretchy fabric: 200g/m2.
Stretchy fabric: 4 way stretch
Machine wash at 30°C, iron inside out.
Knitted fabric composition: 13% EL, 87% PES (Coolmax®):

Breathable

Quick Dry
Anti-Odor

Durable
Complete the set with the matching:
Manufactured in Europe.
Women's clothes and dancers wear are created in JM studio. The entire production process - from design to product - takes place in a Poland.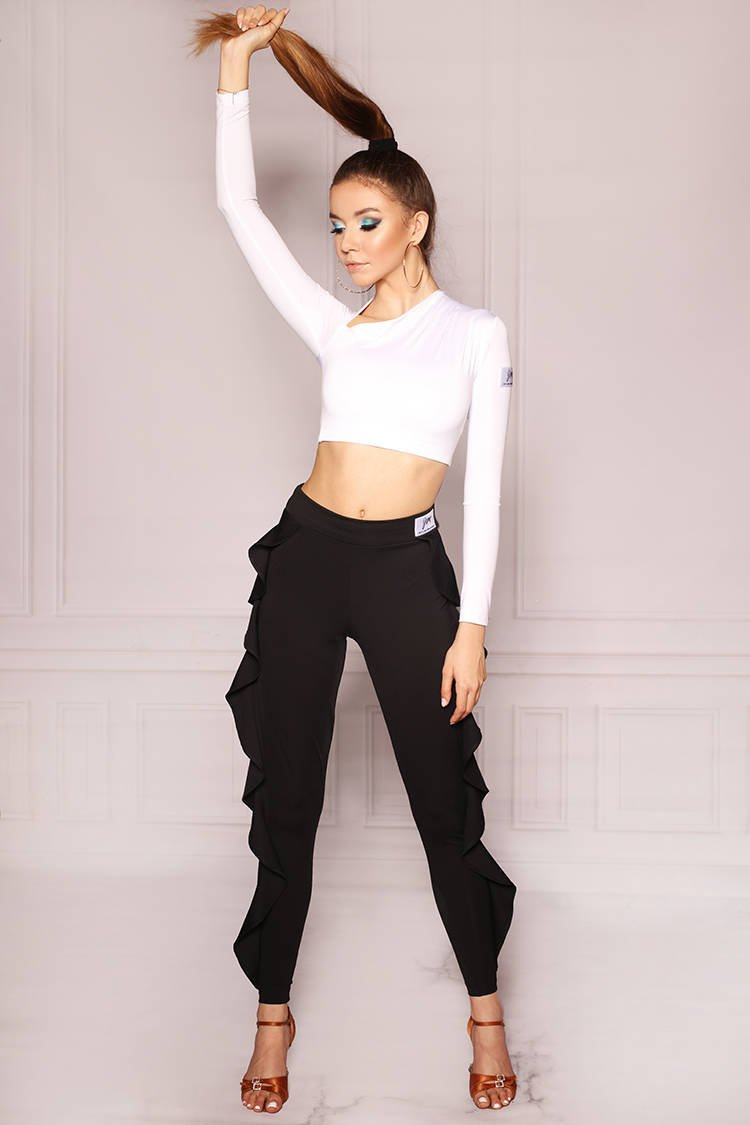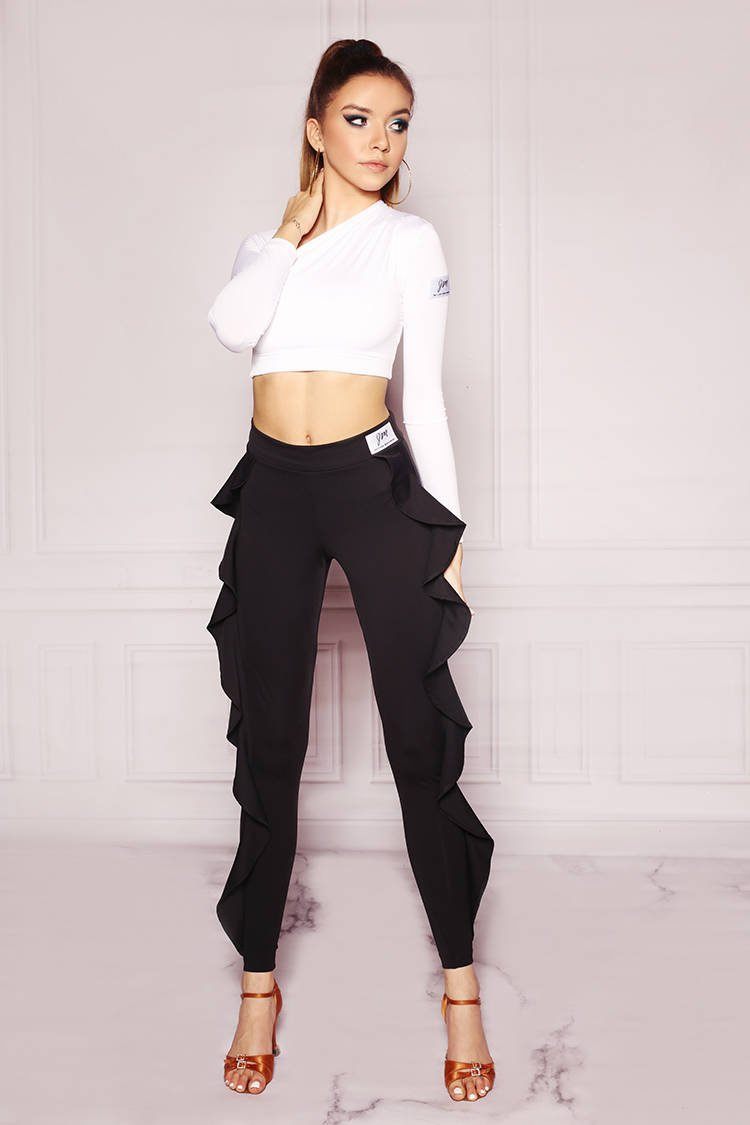 Latin dance: samba, cha cha, rumba, paso doble, jive
| Size | Height (cm) | Chest (cm) | Waist (cm) | Hips (cm) | Body Length (cm) | Ballroom Skirt Lenght(cm) |
| --- | --- | --- | --- | --- | --- | --- |
| height 110cm | 110 | 52-56 | 48-50 | 54-58 | 98-100 | 45 |
| height 116cm | 116 | 54-60 | 50-54 | 60-64 | 100-105 | 47 |
| height 122cm | 122 | 56-62 | 52-56 | 64-67 | 110-113 | 50 |
| height 128cm | 128 | 60-64 | 54-56 | 64-68 | 112-118 | 53 |
| height 134cm | 134 | 64-68 | 55-60 | 68-72 | 116-120 | 55 |
| height 140cm | 140 | 66-72 | 56-62 | 72-76 | 120-128 | 58 |
| height 146cm | 146 | 68-72 | 58-62 | 74-78 | 126-130 | 60 |
| height 152cm | 152 | 72-80 | 58-64 | 78-80 | 127-136 | 62 |
| height 158cm | 158 | 76-84 | 62-64 | 82-86 | 138-145 | 64 |
| height 164cm | 164 | 82-70 | 64-70 | 84-92 | 140-147 | 66 |